Tychonas Michailidis, a research assistant at Integra Lab, has been working the last few months on the realisation of the audio for the icon-sonic opera by Yuval Avital "Fuga Perpetua". This work has been partially funded by the AHRC Cultural Engagement Fund
The premier of the piece took place in Teatro Comunale "L. Pavarotti" Modena, Italy 12 March 2016 with great success.
Fuga Perpetua – musical terms meaning 'always running' – is a total artwork, combining virtuosic music for ensemble, a dynamic surround-sound installation in constant motion, video projections and a 'vocal crowd'.  The leading storytellers of the work are refugees in Kenya, Israel, Italy and the UK, narrating beyond words, through our senses of hearing and sight, intuition and imagination.
The more we read and hear about refugees, it seems we understand and relate to their experience less. They become representations of something other-than-us, reduced to a familiar script of our worst fears. Responding to one of the greatest dramas of our time, Yuval Avital and Meitar Ensemble smuggle us across the border between our concepts of 'us' and 'them'.
Yuval mentions that "'Home' is the root of our identity, our magnetic north, our fixed point from which we orient our story, a sanctuary of protection and intimacy. Without a home, we become vulnerable, unstable, disoriented, lost. Our experience of music is also defined around ideas of home, of stability and rest, but also of movement, change and transformation. In Fuga Perpetua, a rest in one artistic layer drives movement in another, in counterpoint, interweaving constantly."

The role of Tychonas Michailidis and the Integra Lab in this piece was to develop a sound system to reflect the idea of 'us' and 'them'. After multiple attempts to address such distinction we created a system which we refer to as the 'Mobile Sound Theatre'. The system consists of 24 portable loudspeakers that are placed in specific positions under the audience seats (https://www.cambridgeaudio.com/products/wireless-speakers/go). The aim was to create a sound experience for the audience that is intimate and personal. The position of loudspeakers (under the seats) enable us bring down any personal barriers in terms of personal space. This was achieved from speaking testimonies of refugees and sounds that are blended in a music way.
In addition to the Mobile Sound Theatre, an octaphonic surround sound system is used. Both systems work in conjunction with each other creating a 32 channel audio system.
The challenge was to create a system that could work together and address the needs of the composer. There are more that 200 audio files ranging  from 1 second to few minutes. All sound were categorised with a behaviour. In the case where audio files come from the refugees testimonies, that audio files have characters. Each audio file could behave on its own or become a part of larger audio group. For ambient sound the behaviour could be clockwise, anti-clockwise, spiral (10 in total) and for the characters sounds their behaviour could be walking, running, wandering, standing, fleeing and Fuga Perpetua. For example, an ambient sound could be move from left to right within 30 seconds and at the same time a character sound to start walking anti-clockwise for 15 seconds.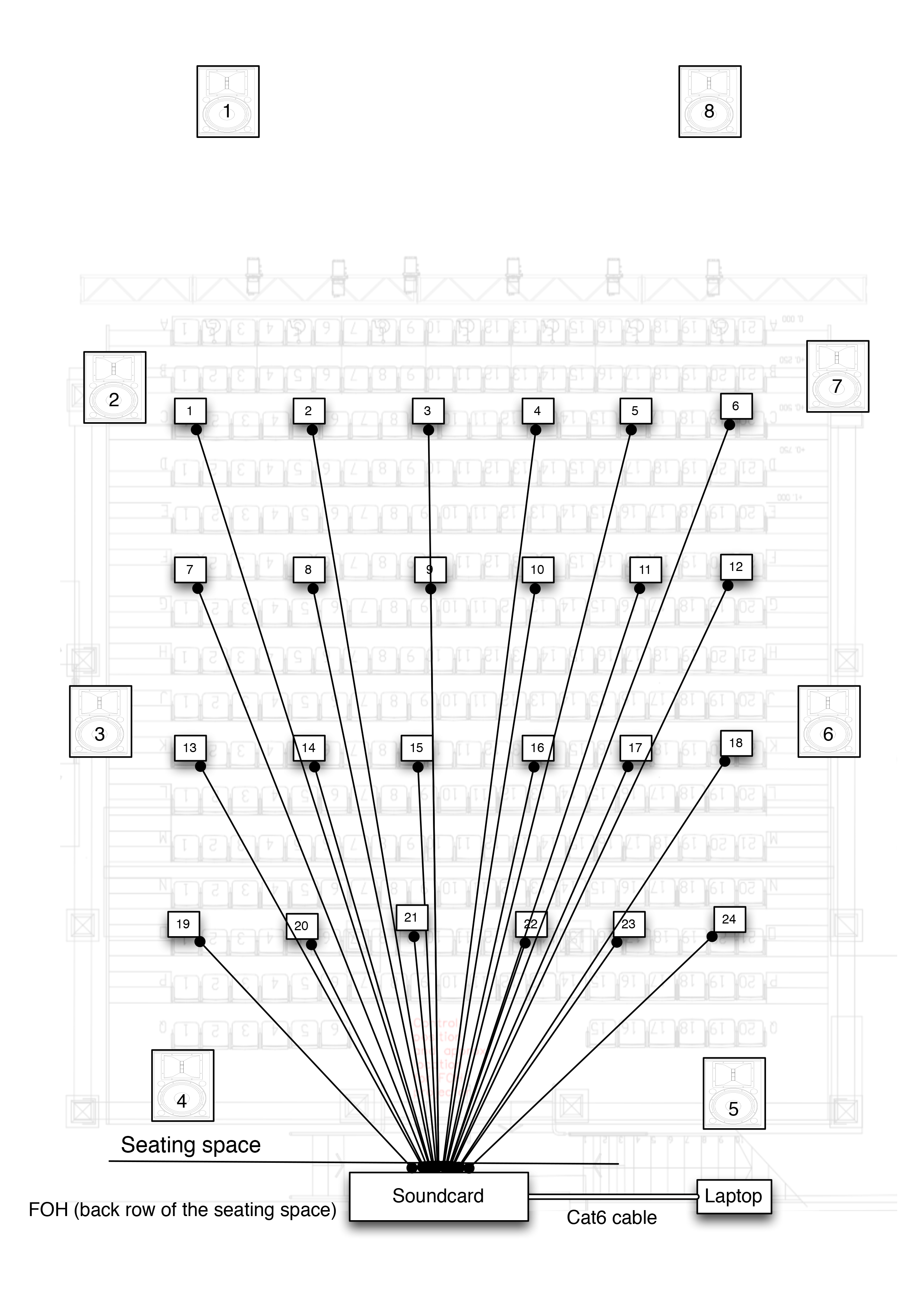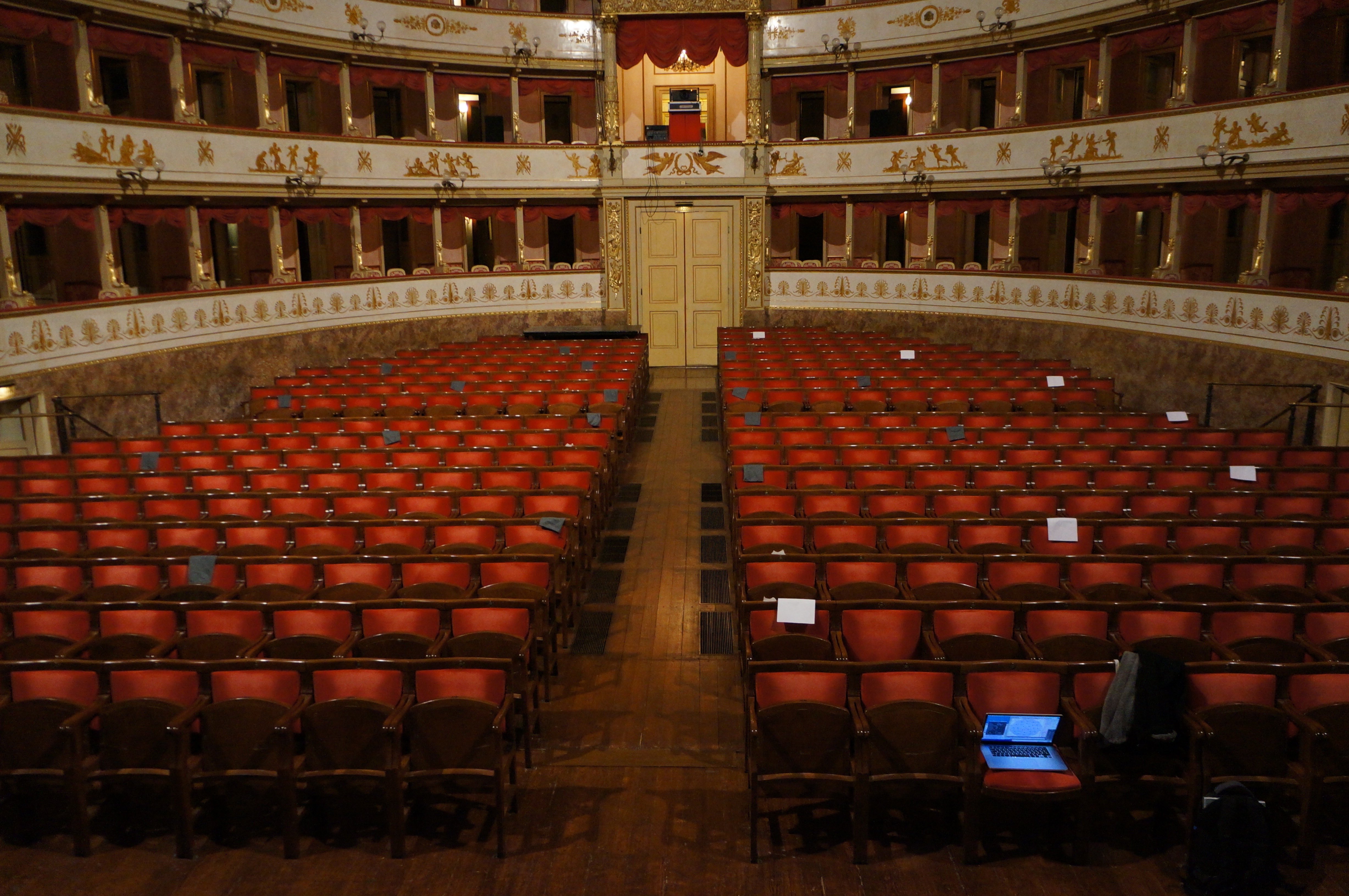 In order to allow such flexibility the Manifold-Interface Amplitude Panning (MIAP) by Zachary Seldess was used (http://www.zacharyseldess.com/miap/)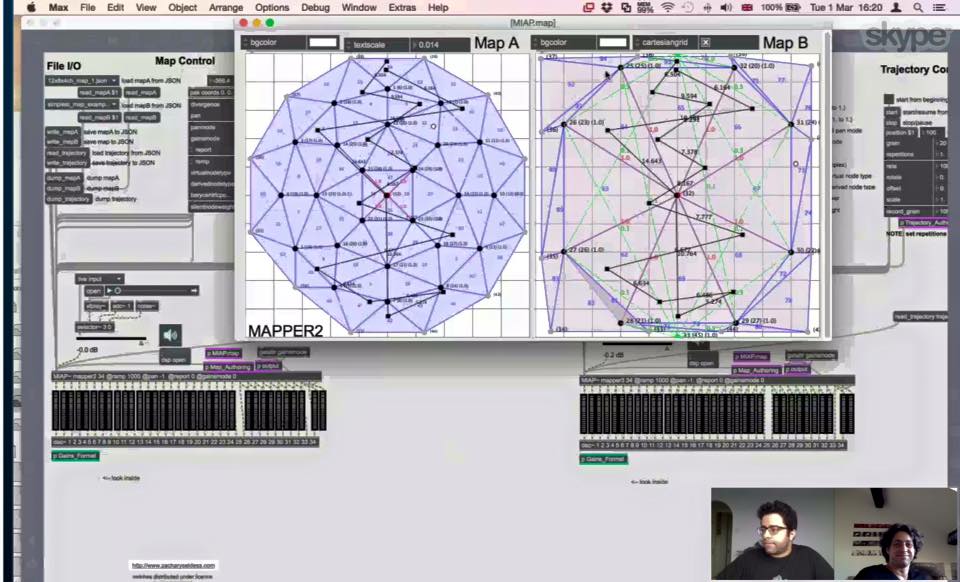 There are two upcoming performances at the Brighton Dome Corn Exchange on Friday 20th May at 8pm.
http://brightonfestival.org/event/8219/fuga_perpetua/
and at the Nottingham Lakeside Arts on Sunday 22nd May 7:30pm http://www.lakesidearts.org.uk/music/event/3166/fuga-perpetua.html
http://archive.skem1.com/Campaigner/Public/t.show?ak21j–834q4-1i05cxm3
For further info read here : http://www.yuvalavital.com/index.php/fuga-perpetua