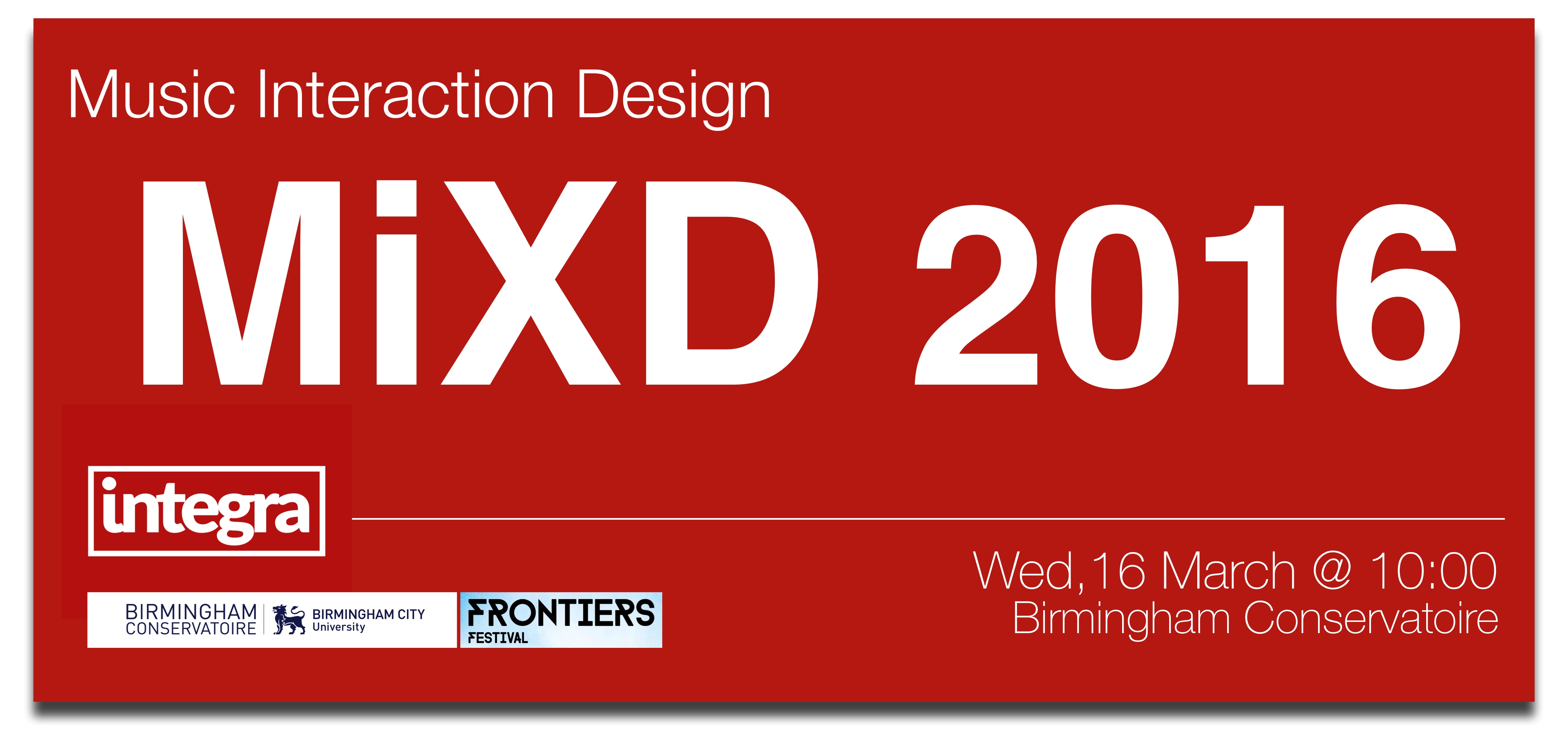 WATCH THE WHOLE EVENT HERE
MiXD 2016 is the first national symposium on Music Interaction Design. The event will be hosted by Birmingham Conservatoire's world-leading Integra Lab research group and will include talks and demos related to the following topics: Design perspectives on new music technology User interface and interaction design for music and sound Links between music and HCI research and the music technology industry Music technology usability, accessibility and user experience Tools, technologies and approaches for developing music-based interaction Novel approaches to interaction with potential application in music and sound
Interaction Design is huge. It looks for meaningful relationships between people and the products/services they use from computers to mobile devices to appliances and beyond. We believe music has a unique place within interaction design which we hope to explore and understand more through this event.
You are invited to submit a proposal for a demo to be presented at the 1st Music Interaction Design (MiXD) symposium. The duration of the demo can be anything from 5 to 30 minutes and could be a short "elevator pitch" of an idea in progress, or a more extended technology / concept demo.
We are looking to cover a wide range of topics related to music interaction design including:
software interfaces
hardware interfaces
novel controllers
sensor technologies
augmented and mixed reality
game audio
sound design
The symposium will sit at the intersection of industry, academia, science, art and design and will be an ideal opportunity for networking with other people working in the area. We have invited world leading academics and industry experts to present their work and approaches. Look for our keynote and confirmed presenters for further updates.
The symposium ends with a concert @ 18:30 appropriate to the theme, Music Interaction Design.
If you think this is something that interest you, please submit your demo proposal in the form of an abstract (maximum 1 page of A4) in an email to mixd@integra.io giving the following information about your demo:
Author/s
Title
Duration
Abstract (demonstrating how it fits with Music Interaction Design
Technical requirements
Send proposals to mixd@integra.io